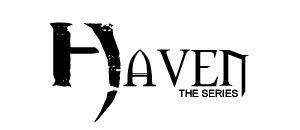 Banner made by Lex
"The whole value of solitude depends upon one's self; it may be a sanctuary or a prison, a haven of repose or a place of punishment, a heaven or a hell, as we ourselves make it"
- Harvey Van Dyke
Here is the story of group of men and women who work to provide one last chance for those persecuted and hunted by a corrupt justice system; in the form of a secret refuge: "Haven". But drawing the lines between good and evil is not so easy; a place that houses not only the misunderstood, but also those without regret, those who thrive on malice, will certainly breed its own kind of darkness. And all the time, Juliet DeLuise and her staff must be ever wary of the threat of being discovered by a mysterious new organisation that is desperate to purge their influence in the name of "good".
Season One












1.1 Crazy Nuts
Welcome to Haven - Another day in the hotel begins in the city of Belview, but ends with the feeling that things are beginning to change forever.
1.2 A Little Less Than Five Star
Juliet's search for a new member of staff continues as Larius' partner arrives in the hotel, with dubious intentions. Gael forces himself to confront his own fears as he leaves the hotel temporarily to visit the mysterious Jacob.
1.3 Tricks Up His Sleeve
Once a master of lies and deceit; has Devyn really changed so much that he can offer Haven's guests a chance to rebuild their lives? Meanwhile Juliet must decide how seriously to consider a possible threat to the hotel.
1.4 Recently Applied Concealant
Haven's staff must deal with a potentially explosive situation as a women recognises the husband who abused her in the hotel. Juliet finds herself at a dead end in tackling the threatening movements of Amethyst; unaware of the dark operations that are occurring on the surface of Belview.
1.5 Access
Amethyst's plans begin to unfold as Jackie steps up her attempt to infiltrate Haven, using an unwilling, but desperate man as a spy. Yet as he puts together his report, will he realise how much the staff of Haven can help him?
1.6 Snatch
The damage done in the last few days still lingers in the hotel, but begins to diminish as Tegan is reunited with several faces from her past. However, as she begins to rekindle her relationships with them, the cost of becoming the woman she once was begins to take its toll.
1.7 Winner Takes All
Juliet must cope under pressure as a a heavily pregnant woman arrives in Haven with her husband. However the situation becomes even more complicated as the couple's twisted relationship is exposed, and the group are left wondering who to trust.
1.8 Smack, Crack and Roll
A near fatal accident within Haven causes Gael to challenge his past, but even help from the other staff members may not be enough to stop a new enemy to the hotel. Meanwhile Jackie begins a new plan in her search for Haven.
1.9 Life After
Delving deeper into the hotel reveals the intrinsic details of all its inhabitants, including some surprising revelations. Devyn discovers some worrying news concerning someone from his past while Jackie continues her interrogation of someone who may be able to give her all she needs to locate the hotel.
1.10 All My Sins Remembered
Juliet considers taking extreme measures, when her mysterious past threatens to reveal itself, potentially changing her life in the hotel forever. Meanwhile Jackie must make a decision concerning her future in Amethyst as she starts to become disillusioned by her orders.
1.11 Worked Up So Sexual
As Liliana continues her plan to re-open the mysterious third lower corridor, Grace considers the direction her relationship with Dominic is taking, while more is revealed about her illuminating past. Callista and Mitch's relationship takes a dark turn.
1.12 Hand That Rocks the Cradle
A woman comes to Haven with her four children in tow, having been accused of abusing them. As doubts are cast on her plea of innocence, a tragedy hits the hotel unexpectedly. Meanwhile Jackie must consider her role in Amethyst carefully, as she prepares to interrogate more familiar faces.
1.13 A Heaven or a Hell...
Who are Aura and Mark really? What have they been planning that is so menacing? These questions are finally answered as their plan becomes reality, and a powerful force threatens to destroy Haven from the inside. While the staff must fight to protect their home's future, Jackie must deal with another kind of downfall, as Amethyst's grip upon the criminal community is sufficiently weakened...
1.14 ...As We Ourselves Make It
Haven's future is still very much a gray area as the power struggle between The Response and Haven's staff and guests turns the hotel into a warzone. Aura and Mark's loyalty is pushed to the limit as they must decide once and for who to side with; but at what cost?
1.15 Before the War
The hotel begins to recover from the shocking and tragic events of the The Response's attack, but Juliet is still left with the difficult decision of what to do with Aura, Mark and the other surviving members. Meanwhile Jackie must deal with the aftermath of a mass breakout in Amethyst.
1.16 Dust
Wondering who to trust, the inhabitants of the hotel try to focus on their own relationships, but everything changes once Royce begins to reveal his startling past, leading to a chain reaction of revelations that could irreversibly change the hotel.
1.17 Targets Met
The remaining residents of Haven try to cope with the disappearance of several of their own, while Juliet must find the truth behind Amethyst's origin before it is too late.
1.18 Behind the Clouds