Note: This is my first Supernatural fanfic and I've been posting it over at my livejournal for the past few months. If anyone is interested in giving me feedback or comments of any kind, feel free to head over to my journal and do so. I love comments.
Thanks.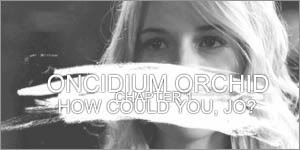 Title: Oncidium Orchid (Chapter 1/?)
Rating: NC-17
Characters: Jo/Dean, Sam
Summary: What if Born Under a Bad Sign ended differently? Jo and Dean hunt Sam.
Author's Note: Please bare with me! This is the first fic I've posted online. Ever. I'm so nervous right now. D:
Disclaimer: Unfortunately, I don't own anything except for the plot.
Warnings/Spoilers: Up to Born Under a Bad Sign

Chapter One: How could you, Jo?

Duluth, Minnesota
"I can't say it more plain than this. You try to follow me and I'll tie you right back to that post and leave you here. This is my fight. I'm not getting your blood on my hands. That's just how it's gonna be," Dean says to her. Straight out and simple. He was not going to be responsible for her.

"Wait," Jo says and Dean stops. "Here. Take these, they'll help with the pain," she explains, handing over a prescription bottle of pills. She smiles meekly at his look of surprise.

"Thanks." He takes the bottle. "I'll call you later, okay?" he says without any intention of doing so. With nothing more to say, he leaves. He doesn't expect to ever come across Jo Harvelle again.

After Dean is gone, Jo says to herself, "No you wont." She doesn't let even a tear fall. She's stronger than that.

South Dakota
The demon possessing Sam leaves Dean and Bobby in a bruised, bloodied, crumpled mess on the rough floor. He won't end them yet. He believes they may serve a further purpose that mortal death won't bring. He leaves a message on the unconscious Dean's arm. It reads: 'Illinois' in red, jagged lines.

An hour later, Dean wakes. Bobby is still out cold. Dean notices the word on the exposed flesh of his arm. He puzzles over it for a moment before pulling on his jacket, effectively covering all traces of the name. Bobby couldn't know. This was Dean's problem. And Sam's problem. He'd figure it out on his own and bring his family back together, like he's done countless times before.

Beside him, Bobby groans. "Sam's gone," Dean tells him gruffly and uses the wall to help himself stand up. His clothes are stiff and tacky with half-dry blood and his skin itches as red lazily oozes from multiple cuts and scratches. Nothing serious.

Bobby rubs his head. "You goin' after Sam right away?"

"As soon as I'm cleaned up," Dean replies, voice steady, insides not so steady.

"How you gonna find him?" Bobby asks and struggles to stand. Dean gives him a hand up.

Dean smiles through the gore. "I have an idea where he's headed."

He cleans himself up fast. He strips off his tainted clothes and showers, scrubbing hard at the blood caked to his body. He doesn't take long enough to wash off the blood thats more than skin deep. Doesn't have time for that. He changes into fresh clothes from his bag in the Impala. He's lucky Sam didn't take off with his baby. The 'Illinois' is already healing and is barely legible now that the red is washed away. He briefly considers jotting it down on a piece of paper or something, but quickly reconsiders. He won't forget. No way in hell he'd forget the name his little brother carved into his arm.

After a hasty goodbye to Bobby, Dean is on the road. He leaves Dakota in a cloud of dust.

Casper, Wyoming
Jo could almost laugh to herself. Dean was sometimes just so oblivious to the whole entire world. There was no way she was just sitting this one out. This is the big fight. Just what she's been waiting for. Dean should know she wouldn't back down that easily. Not that she cared what he thought anymore, of course. He didn't need or want her, so she definitely won't need or want his sorry ass any time soon.

She wasn't sure where to start exactly, and had headed to the place Dean mentioned was the home of the closet hunter. She didn't know the whole story, but she guessed Sam was going there to kill the man. She had reached South Dakota probably only an hour after Dean had. She had driven through, not finding anything to clue her in on either Sam or Dean's whereabouts. On her way out of the state however, she happened to overhear a man yelling about a tall man stealing his truck right under his nose. It had to have been Sam.

Now here she is, in her rusted crap pickup truck, nearing Casper. She's never been before, but the promise of inevitable chaos and destruction keeps her determined. She looks hard for clues- anything to prove she is heading in the right direction. She half expects to find mutilated people on the side of the road, because she is after all, tailing a demon. But Sam wasn't that stupid, and she guessed the demon riding him isn't that stupid either.

Night is quickly approaching and exhaustion is finally beginning to nag at Jo. It's been a couple of days since she's gotten any sleep. She pulls off the main road and gets a room at the nearest motel. It's a dump, but that's what she expects. The room smells of rubbing alcohol and air freshener. At least it's clean. She locks the door and puts the deadbolt into place, then lines the door and windows with salt before climbing between stiff sheets and drifting off into an uneasy sleep.

A scream wakes Jo. She rolls over to glance at the alarm clock. 2:35 AM. She thinks of Sam and the exhaustion leaks away, leaving the only quickening pulse of her heart. She digs a gun and knife out of the duffel bag holding all her weapons. The gun goes in the waistband of her jeans but the knife stays in her hand.

She creeps out of her room and into the parking lot. It's dark. The street lamps reveal only a couple of cars, a dumpster, and... a girl. Jo runs over to the girl and drops to her knees in front of the limp body. "What happened? Are you okay?" Jo asks the girl in a harsh whisper.

The girl doesn't answer. Jo pushes aside hair that's dark and wet and takes hold of the girl's chin to turn the face to her. The girl's face is streaked with thick cuts and blood seeps from everywhere; her dull blue eyes, her nose, her mouth. The girl is dead, no doubt about it. Jo backs away.

"Shit," she murmurs. Too late. She switches her knife for her gun.

"Jo," a voice says from the side of the motel.

She turns around, fast, to see Sam. He definitely wasn't there before. It must've been a trap. His face is lit up in the fluorescent colored lights radiating from the motel's 'vacancy' sign. The light catches his features at odd angles, making him look more like a monster than the sensitive man she's known.

"Sam- what have you done?" she asks, still unable to wrap her mind around the fact that something could be controlling him. She remembers, and raises her gun. Her hands shake as she positions a finger over the trigger. She has to be strong. She inhales deeply and her hands still.

Sam comes towards her, hands stuffed in his pockets. He looks so innocent. He'd never hurt her. The colored lights don't fall on his face anymore and he looks... normal. Good ol' Sam. But she knows he isn't. Theres speckles of blood across his jaw and on the collar of his shirt. "Don't you dare come any closer," she says, gun still steady.

"Jo," he says, "I swear I didn't do it. I just woke up here and I don't remember anything- help me. Please." He raises his hands over his head, showing that they're empty. "Please, Jo. I need help," he adds meekly and steps slowly closer.

"I know it's not really you," she says, pretty sure. "Don't move!" But it's too late, Sam's already there. He easily knocks the gun from her grasp. She tries to punch and kick but he's too close and she can't get a solid hit in. Sam grabs at her flailing limbs but she struggles and manages to get a little distance. But the demon's fast and sweeps her feet out from under her and she falls hard to the ground, back hitting the pavement. He lands on top, straddling her. He pins her arms above her head.

The demon grins Sam's boyish grin. Jo's stomach hurts; it twists and she feels like throwing up. "I bet you wish this was Dean, huh?" he teases and grinds his hips against hers playfully.

"You're a pig," she says through clenched teeth.

"Now, don't be like this. Come on, Jo. I just wanna ask you something important. That's all."

She glares up at him. "What?"

Sam leans down to whisper in her ear, "Why are you following me, girl?"

Jo stops struggling and he smiles. She looks over at the dead girl, and her heart hurts. "I don't know. Just feels so right," she says before spitting right in his face.

"You bitch!" Sam says and wipes at his face. Jo chooses just that moment to buck her hips and he loses his grip. She rolls to the side and grabs her gun. She then shoots once, twice, three times. She knows it won't kill him, but it'll hurt like a sonuvabitch. At least one of the bullets must have connected because Sam's body jerks with the impact. She hopes it doesn't injure Sam's body too bad.

"How could you, Jo?" he says in Sam's hurt voice before disappearing into the darkness.

How could you, Jo? Indeed.

Mason City, Iowa
Dean finds the road tough to focus on and doesn't get so far considering how long it feels like he's been driving. He's on the edge, every nerve jumping. He nearly drives into a ditch when he sees a tall guy with a brown mop of hair hitchhiking on the side of the highway. It's not Sam. Dean's disappointed, but since he's already stopped, he decides to give the guy a lift.

"Where you headed?" Dean asks once the Impala is in motion again.

"Anywheres good," he answers sullenly. "I'm Mark, by the way."

"I'm Dean." He doesn't really know what possessed him to give the kid his real name. "I'm on my way to Illinois." He pauses. "Let me know when you want out."

"Thanks," Mark says and gazes out the window, reminding Dean so much of Sam that it hurts.

Upon entering Mason City, Mark clears his throat. "Uh, Dean, could you let me out here, please?" Dean nods and pulls the car over at a gas station. He needs to fill up anyway. Mark gets out and shuts the door then looks in at Dean.

Dean looks up at Mark from where he's been rummaging through the glove compartment for a fake credit card. The kid's eyes are completely black. "Continue on to Illinois, it is your destined path," the demon tells him. "The yellow eyed demon waits."

"****," Dean says, scrambling out of the car, gun in hand. Mark's already long gone.