Lessons:
Xander's responsible appearance and usage of car to drive Buffy and Dawn to school along with Buffy's mom hair and finally paying attention to Dawn. They buy her the cell phone, Buffy doesn't give it to Dawn until Xander is there, the way Buffy pulls Xander's wrest to see his watch (I loved this moment), Xander picking Dawn and Buffy to school everyday.
Beneath You:
Again, Xander driving them to school, Dawn asking Buffy not to embarrass her like a daughter asks her mother. I don't blame Nancy for thinking that Buffy and Xander are together, they do act like a couple in these episodes.
Him:
When Dawn embarrassed herself in front of RJ, it was Xander and Buffy who were there to comfort her. Why would Xander help Buffy comfort her when Willow was living with them? Xander comforting Dawn out of school and then when he finds Buffy on top of RJ, he goes all, "Now get off the boy, Buffy. We're going home." He is taking the father role way too seriously.
Never Leave Me:
When Spike is kidnapped, it was Buffy and Xander who checked the empty basement, then it was Buffy and Xander who went upstairs and made sure Andrew was okay before they came downstairs together to check on the rest of the children…. I mean, Willow and Dawn.
Potential:
Buffy and Xander are the ones making sure Dawn is okay, before Xander takes the stage and helps Dawn to be more confident about herself. He's really the father of the season.
I'm sure there are little moments here and there, but the most obvious one must be that Buffy doesn't trust anyone with Dawn but Xander. She trusted no one to go away with Dawn but Xander, if they all died, she preferred that Xander would raise Dawn alone and no one else. In Chosen, she paired Dawn with Xander, knowing that Wood and Giles are much better fighters, but she still trusted no one with her but Xander.
Then we have Buffy's role as the mother of the season by taking care of all these potentials and her friends. And on top of them all, Spike.
Icons treating Xander and Buffy as parents:

and

First made by adis723 and the second by Moscow Watcher
Another point that made them feel like a family was when Willow came home she felt like out of place a little. Xander/Buffy/Dawn were this little family unit and were living life with out her and she felt misplaced. Here's a screen cap showing the "Family Numbers" And has Buffy, Xander, and Dawn's number written down. Not Giles, not willow, not even her father's number, just B/X/D.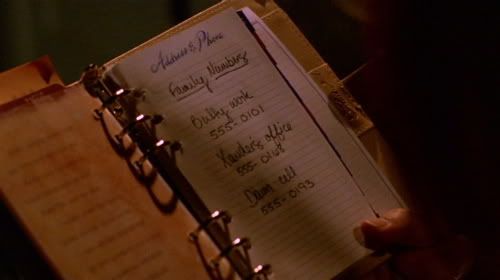 Also in Chosen, Xander was the only member of the core four trusted with Dawn despite Willow being more powerful and Giles being a better fighter. Not to mention the hand squeeze and eye staring:

made by Francy.

made by Nadia.
Now I can see why they're so close in S8. It all started in S7.