Ok here we go.
You are now voting for the two episodes from each season you would
NOT
like to see in the semi-final of the sixth.You have 14 votes. Two for each season.
The episodes through to this stage are detailed here...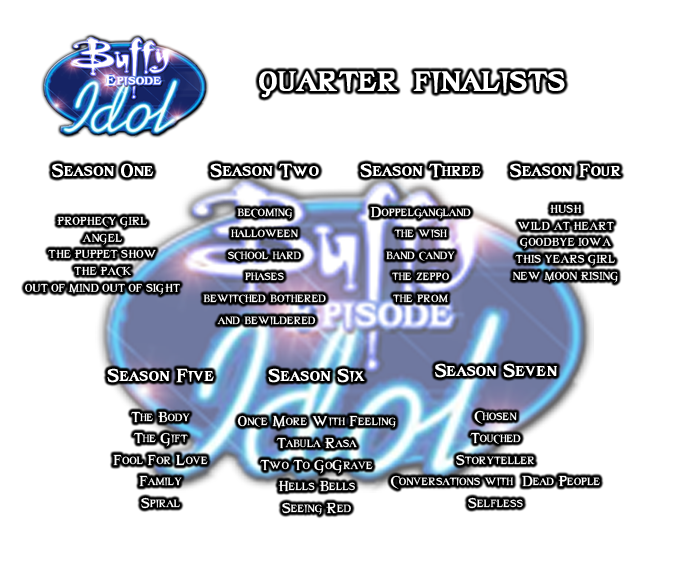 If you cannot see this image, the episodes are listed in text form below.
SEASON ONE
Prophecy Girl
Angel
The Puppet Show
The Pack
Out of Mind, Out of Sight

SEASON TWO
Becoming
Halloween
School Hard
Phases
Bewitched, Bothered and Bewildered

SEASON THREE

Doppelg?ngland
The Wish
Band Candy
The Zeppo
The Prom

SEASON FOUR
Hush
Wild at Heart
Goodbye, Iowa
This Year's Girl
New Moon Rising





SEASON FIVE
The Body
The Gift
Fool For Love
Family
Spiral

SEASON SIX
Once More, With Feeling
Tabula Rasa
Two To Go/Grave
Hell's Bells
Seeing Red

SEASON SEVEN
Chosen
Touched
Storyteller
Conversations with Dead People
Selfless
Remember, you are voting for the two episodes from each season you do not want to see in the semi-finals.
Thank you.